HIP DYSPLASIA IS A LIFELONG JOURNEY, OFTEN WITH TWISTS AND TURNS.
BUT, WHAT'S AWESOME IS THAT DOGS WITH HIP DYSPLASIA CAN TRULY THRIVE!
(Shhh…many people don't want you to know this, but most of the dogs with hip dysplasia do NOT need surgery either.)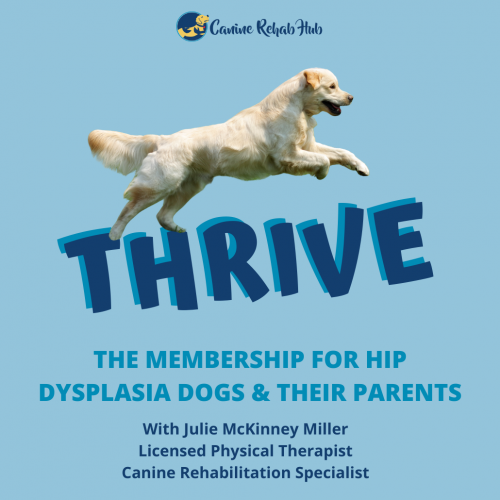 For less than the cost of monthly rehab sessions, you can become part of something AMAZING!!  
All too often, dog parents are not taught exactly what to do at home with their dogs, how much exercises, which ones, how often, how to know if each exercise is good for your dog or should be removed from the home program, how to advance your dog's home program, ways you can evaluate and make changes yourself…
But sadly, many rehab facilities want you coming back indefinitely and depending on them and their gadgets that they make seem absolutely essential to your dog's success.
But what if I told you that's not true and that indeed, there IS a BETTER way?
Can you imagine feeling THIS empowered?
…with all of this important knowledge that allows you to give your dog their BEST life and to kick hip dysplasia's butt…while avoiding surgery, cutting back or eliminating costly pain meds and saving you LOTS of time and money and even heartache?
Well, that's what the "THRIVE with HD" Membership is all about.
The membership will be re-opening in its updated and amazing way soon.
(Get on the waitlist before the new cohort fills up!)
Do You Want Your Dog With Hip Dysplasia To Be Able To Run And Play And Live Life To The Fullest... All Without Any Surgery?
It IS very much a possibility!  
Would you like to know how?
Having your dog kick HD's butt and do great WITHOUT surgery is not only possible…but it is highly likely.
I have worked with hundreds of dogs with hip dysplasia…and NOT even ONE of them has needed to go on to get surgery.
They have ALL done very well and lived a GREAT life with a home program, geared toward to their own unique life…and to yours as the dog parent!
This is something that every dog parent can learn to do…
Sound like something you want to do?